Escuela de Gobierno
En los medios
9/05/23
'Merit is a bad word': Can inclusion and quality coexist in Argentine higher ed?
Marcelo Rabossi, profesor de las Especializaciones y Maestrías en Educación, fue consultado sobre la relación entre eduación universitaria e inclusión social.
On the surface, Argentina's public universities are some of the most inclusive in the world: Tuition is free, and there's no application process, entry exam, nor caps on admission.
Inclusivity has long been a governing principle for public universities here. But while anyone can begin a degree, few make it to graduation – and only one-fifth of college-aged Argentines enroll in the first place.
The reasons vary, from inadequate preparation in public high schools to the economic hurdles of paying for books or rent while in college. Funding one's university education is particularly difficult in a country with unusually long degree programs, which last a minimum of five and often more like nine years. 
The system does little to correct existing disparities, and the graduation rates don't bode well for a nation struggling with brain drain and hoping to climb out of a drawn-out economic crisis. Reversing the trend may depend on creating inclusive policies that go beyond surface level, accompanying students throughout their educational trajectory, while putting more emphasis on quality and not access alone.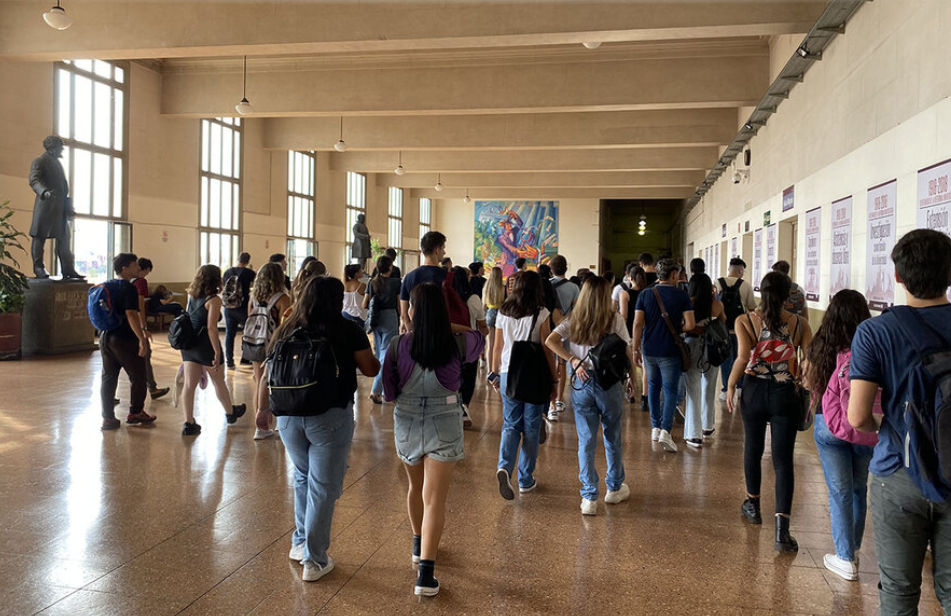 Erika Page/The Christian Science Monitor
"Argentina was historically the country with the most educational and human capital in Latin America ... which is what constitutes the real wealth of a nation," says Marcelo Rabossi, an expert in higher education policy at the Universidad Torcuato Di Tella in Buenos Aires. But that level has "long been falling." 
"Anyone who enters university has a certain hope ... to change their reality," says Juan Lopensino, an engineering professor at the Technical University of Córdoba. He says fewer than 10% of students make it to graduation in his department. Across disciplines, the national average at public universities is 30%.
"With such a high drop-out rate, we are creating social problems. ... We are producing a frustrated generation." 
'An illusion'
On the first day of class in her eighth and final year of a law degree, Natalia Villagra emerges from the subway station running an hour late. Between a half-time job at a shoe shop, a 1.5-hour commute from the outskirts of Buenos Aires, and frequent metro interruptions, she's mastered the art of moving quickly without appearing flustered. 
As she climbs the stairs of the law faculty, one of the city's biggest slums is visible to her right. 
"Any young person from the 'villa' could easily come to study here," she says. But she knows how unlikely that is. In her own working-class neighborhood, many of her high school classmates were starting families by their late teens, and most took whatever jobs they could get. Ms. Villagra herself paused her studies multiple times to work full time, not sure if she would be able to return.
According to a 2021 study from the Observatory of Argentines for Education, a non-governmental organization that monitors educational data with the aim to strengthen public education, students from the lowest income decile make up 8% of college freshman. By the fifth year, that falls to 1%.
"Open access ends up being an illusion," says Dr. Rabossi. "There is inclusion in admission, but selectivity and elitism in graduation." 
When university became free and universal in 1949, it was meant to be a hallmark of social mobility that could prepare a broad middle class to participate meaningfully in democracy. That's what Isabel Bohorquez calls the "Argentine dream." 
"We all buy the story, but the university system never managed to become truly of the people," says Dr. Bohorquez, a former university rector of the Provincial University of Córdoba. She says the narrative makes it difficult to criticize flaws in the system today. "It's become something untouchable."
Inclusion vs. quality
Open college admission comes at a cost. First- and second-year lectures can fill up to double or even triple classroom capacity, with some students sitting on the floor or listening from hallways. In some tracks, like medicine, it can mean fewer materials available per student to gain hands-on experience. The dilemma gets at the relationship between inclusivity and quality, a sensitive and highly politicized topic in education. 
"I don't believe in that dichotomy," says Dr. Rabossi. "But there have to be certain conditions in place so that they don't clash. And the problem for me is that in Argentina, inclusion ends up affecting quality."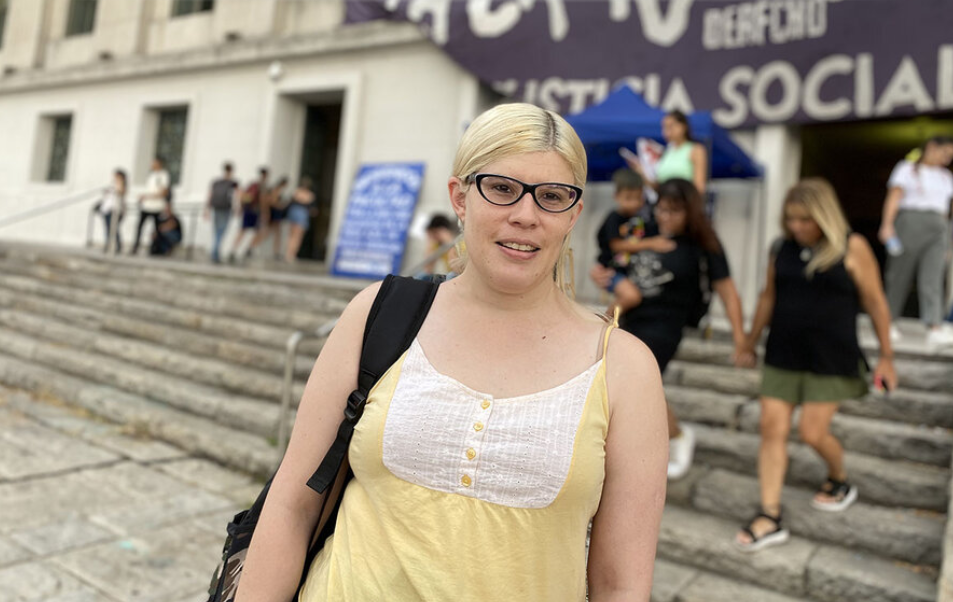 Erika Page/The Christian Science Monitor

The problems begin long before the university level. In private high schools, 64% of students graduate on time, compared with 36% in public schools, which serve the vast majority of Argentines. And there are no national exams at the end of high school to measure students' level of preparedness for college. Proposals to introduce selectivity exams are met with fierce opposition.
"Here in Argentina, it's very complicated to talk about merit. For many social sectors 'merit' is a bad word," says Camila Roig, who began volunteering with a network called Organized Students in her last year of high school out of frustration with extended school COVID-19 closures. With the pandemic behind them, the group has turned its attention to other challenges facing the public education system.
According to the most recent Program for International Student Assessment, 69% of Argentine students are low achievers in math, compared with an average among Organization for Economic Cooperation and Development member countries of 24%.
Now a second-year political science student at the University of Buenos Aires, Ms. Roig supports the widespread commitment in Argentina to education as a human right, but says that shouldn't stymie conversations about raising educational standards. 
To improve high school dropout rates, recent government initiatives have instead opted to make it easier for students to continue to the next year of schooling. For Dr. Bohorquez, that's not doing the country – or those students – any favors.
"If you hand out academic success, you're actually 'othering' the students you hope to include, because you're not requiring anything substantial from them," she says.
Neighboring countries have found solutions to some of the problems Argentina faces. After investing heavily in elementary and high school education, Chile now graduates more university-educated professionals than Argentina, with less than half the population. In Uruguay, a solidarity fund financed by graduates of public universities over the course of their careers provides grants to cover living expenses for low-income students.
Ideas for reform are occasionally floated in Argentina, like making degrees shorter, improving funding for disadvantaged students, charging tuition for international pupils, and strengthening ties between universities and related institutions that train teachers and technicians. But none have gained traction. Meanwhile, the national government has proposed opening eight new universities to broaden accessibility, despite calls for a focus on quality over quantity.
A bright light
Early on in his chemistry degree, Enzo Centurion lost track of the number of all-nighters he was spending trying to catch up to his classmates. In his family of five, only his mother studied beyond high school, earning her elementary school teaching degree.
"It was like starting from zero," says Mr. Centurion, now in his sixth year.
He was only able to move to the city of Rosario to study thanks to the nonprofit Fundación Sí, which runs housing residences for promising students without universities in their hometowns. Scholarships offered by the government are scant and rarely are enough to cover living expenses.
Despite the imperfections, he sees higher education as one of Argentina's brightest lights – and is planning to go into scientific research.
"If it weren't for public university, I would never have been able to study. So I'm making the very most of it."